History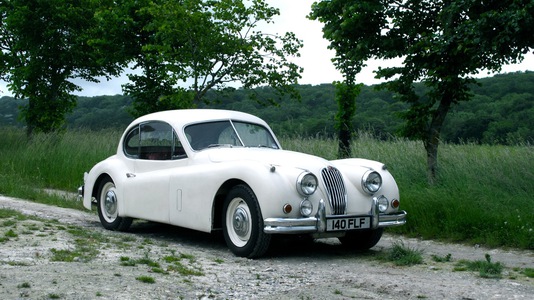 The XK140 was introduced in late 1954 and sold as a 1955 model. Exterior changes that distinguished it from the XK120 included more substantial front and rear bumpers with overriders, and flashing turn signals (operated by a switch on the dash) above the front bumper.
The grille remained the same size but became a one-piece cast unit with fewer, and broader, vertical bars. The Jaguar badge was incorporated into the grille surround. A chrome trim strip ran along the centre of the bonnet (hood) and boot (trunk) lid. An emblem on the boot lid contained the words "Winner Le Mans 1951–3".
Fixed Head Coupé:
The interior was made more comfortable for taller drivers by moving the engine, firewall and dash forward to give 3 inches (76 mm) more legroom. The single battery was relocated from behind the seats to inside the wing (fender) on the inlet side. The XK140 was powered by the Jaguar XK engine with the Special Equipment modifications from the XK120, which raised the specified power by 10 bhp to 190 bhp (142 kW) gross at 5500 rpm, as standard. The C-Type cylinder head, carried over from the XK120 catalogue, and producing 210 bhp (157 kW) gross at 5750 rpm, was optional equipment. When fitted with the C-type head, 2-inch sand-cast H8 carburettors, heavier torsion bars and twin exhaust pipes, the car was designated XK140 SE in the UK and XK140 MC in North America. In 1956 the XK140 became the first Jaguar sports car to be offered with automatic transmission. As with the XK120, wire wheels and dual exhausts were options, and most XK140s imported into the United States had wire wheels. Cars with the standard disc wheels had spats (fender skirts) over the rear wheel opening.