Because it is almost impossible to keep track of all different parts by head, I developed a software application. This application can keep track all parts(currently 7341 separate pieces), needed to rebuild the Jaguar XK140 FHC. All these parts are taken from the "Jaguar Spare Parts Catalogue".
For each individual part I store the following specific information:
Group (The car is divided into 15 groups)
Part (Each group is divided in several parts, for the whole car 139)
Item (Specific components, for the whole car 2565)
Number (Number as used by the jaguar part manuals)
Reference (Identification to a specific location on a picture)
Remark (Room for temporary or permanent notes)
Picture (Exploded view of a part, which shows all items available in this part)
Count (How many items of this type are in this part)
State (State of this item; Missing, Have, Cleaned, Finished, Mounted)
Material (Basis material of the item; Rubber, Bearing, Painted steel,  Washer, Nut, Bolt, Pin, Chrome, Fabric, Glass, Other, Gasket, Clip, Wiring electrics and Screw)
Price (Value for a specific item)
Weight factor (Small parts receive 1 and bigger parts for example 50, used for progress calculation)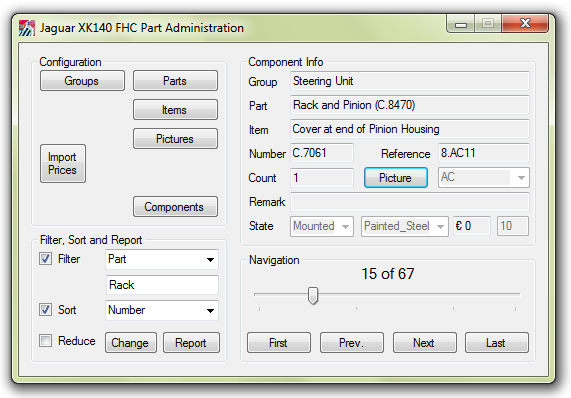 A lot of parts can be found on one of the 36 available exploded views.
With the help of the filter, sort and report functionality it is very easy to;
Select parts based on (Group, Part, Item, Number, Count, Reference or Remark)
Sort all selected parts on  (Group, Part, Item, Number, Count, Reference or Remark)
Reduce all Selected parts based on (State or Material)
Write the selected parts to a report file
In the report file there is also a overview of the current progress , an example is shown in the table below.

| | Missing | Have | Cleaned | Finished | Mounted | Total |
| --- | --- | --- | --- | --- | --- | --- |
| Unknown | 0 | 0 | 0 | 0 | 0 | 0 |
| Rubber | 194 | 1 | 0 | 47 | 81 | 323 |
| Bearing | 207 | 6 | 0 | 11 | 45 | 269 |
| Painted Steel | 97 | 92 | 38 | 97 | 189 | 513 |
| Washer | 1316 | 11 | 52 | 111 | 216 | 1706 |
| Nut | 549 | 7 | 3 | 79 | 136 | 774 |
| Bolt | 969 | 49 | 9 | 95 | 196 | 1318 |
| Pin | 61 | 0 | 3 | 96 | 53 | 213 |
| Chrome | 62 | 37 | 27 | 13 | 4 | 143 |
| Fabric | 106 | 0 | 0 | 0 | 0 | 106 |
| Glass | 1 | 0 | 0 | 13 | 1 | 15 |
| Other | 960 | 88 | 21 | 83 | 171 | 1323 |
| Gasket | 66 | 0 | 0 | 5 | 13 | 84 |
| Clip | 144 | 0 | 13 | 19 | 20 | 196 |
| Wiring Electrics | 28 | 14 | 0 | 19 | 1 | 62 |
| Screw | 286 | 0 | 0 | 1 | 9 | 296 |
| Total | 5046 | 305 | 166 | 689 | 1135 | 7341 |